The Tarantella Dancers have been performing Italian Folk Dancing for over 20 years.  We perform authentic tarantella dances from many different regions of Italy.  Our costumes are authentic and represent many different regions as well.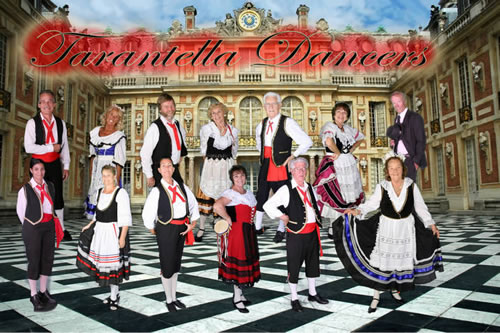 We have performed throughout the State of Florida and perform annually at the St. Petersburg International Folk Fair.  We have also been asked  to perform at the annual Italian Festa in Venice, Fl for more than 10 years.

Our purpose is simply this:  to promote the Italian culture  through our dances with the hope that our audiences are thoroughly entertained and walk away with knowing something about Italy they didn't previously know;  and having a great time doing it.
What We Offer
Our performances are filled with dancing, singing and skits from all over Italy.  We take the audience on a tour of Italy from the northern regions of the country to the southern shores of Sicily.  The audience also learns a little bit about the regions we are representing as we go.  Our  performances can range from 30  minutes to one hour.  It is truly a unique experience for everyone of all ages to enjoy. 
We offer an opportunity to those who have a desire to learn and perform Italian folk dances.  Our dance classes are free  and are held weekly at the Gulfport Senior Center.  We are committed to teaching those who want to be a part of our group.
We are always looking for new talent.  If you have an  interest and want to join in the fun, please contact:
Richard Tellone at 727-226-5134, or at: info@iasosp.org
We look forward to seeing you soon!!        CIAO!
Sampling of Dances